Closer to nature all year round!
Winter gardens are a great opportunity to create unprecedented coziness in your home – an attractive contemporary solution, the original finish of any home. The winter garden can be a real joy for the senses – a space you can enjoy all season. It brings warmth and comfort in winter when the weather is cold and there is no greenery. Flora makes our lives more harmonious, but at the same time the winter garden will save energy as it accumulates heat.
The winter garden is an extension of the house and gives additional living space, which also makes it a profitable investment, significantly increasing the value of your property.
This glazed area or sunroom can be loggia and porch or just glazing on a classic balcony and terrace. The Winter Garden is a modern solution for anyone wishing to make an original accent on their home, restaurant, hotel or showroom.
Coffee outside, but it rains!

Lunch outside, but it's windy!
Outside with kids, but it's very cold!
To live surrounded by nature

---
A winter garden is a great way to make that dream come true all year long. Your personal paradise, surrounded by greenery and freshness. Beautiful panoramic views and protected from the bad weather make the winter garden your personal place of nature.
The Winter Garden is a complex architectural and design project that requires special attention and maintenance. Of course, the effort and the investment are worth it, since you have an original and effective organization of space that brings with it many benefits.
Usually, or at least very often, winter gardens are built on the porch as an entrance to the house or vice versa, an exit from the living room to the yard and garden. It is important to remember that the winter garden is designed for aesthetics and pleasure, so it must be carefully considered when designing it. The structure should naturally fit into the concept of the home and the surrounding landscape, and to preserve the harmony of the architectural vision.
Winter gardens are different in concept and sometimes is no need for a roof. Glazing a larger space with special types of sliding systems can turn a large living room, for example, into a winter garden. Such slides are profileless glass sliding and folding glass systems, sliding lift & slide or the so called Hebe Schiebe sliding or opening accordion type.
In the Winter Garden can turn into a pre-built gazebo, porch with wooden structure and more.
Winter gardens made of high-quality glass materials are always an ideal choice for those who want to spend time in winter in the gardens in the houses. In addition, thanks to the system's insulation you can always save a lot of energy. The glass used in construction has a foldable structure in the summer months. That's why you can enjoy your winter gardens throughout the four seasons.
Winter garden for every need and by individual project

---
Each winter garden can be unique and designed to emphasize and enrich the space in the home, office or facility.
You have the opportunity to choose every detail to suit your requirements and needs.
Choose the design you want, choose the right color, imagine how you want your new winter garden to fit into the environment.
At Profil Group you will find a wide range of practical solutions for glazing, sliding systems and energy-saving glazing.
Each individual project is a pleasure and a challenge for our qualified team of specialists in the field.
Here you will find the answers to all your questions about your winter garden.
The winter garden can be designed in different configurations and can always find a suitable place for it. These can be uncovered terraces, unused areas in the backyard, and specially integrated space for new construction. No matter the size, the idea of a winter garden reveals a variety of options and effective solutions to bring you closer to your dream destination.
The structure of the winter garden is based on several key elements: glass panels and supporting structures of different profiles with the possibility of opening parts – windows and doors.
The possibilities for individually organizing the winter garden according to their specific location are expanded by the wide range of accessories and equipment. As far as possible, it is advisable to anticipate the movement of the sun when carrying out the project.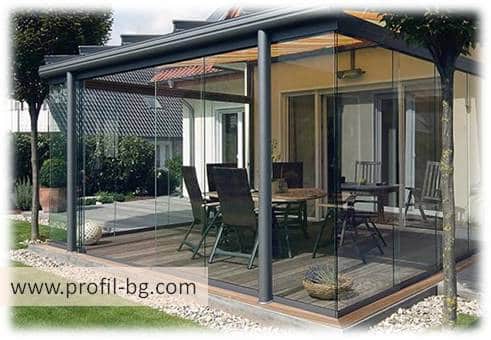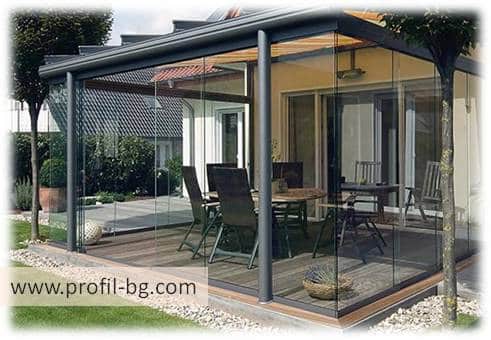 A winter garden roof can be a budget option at a lower cost with lightweight aluminum construction and polycarbonate or plexiglass. In its original design, the roof is made of a fasade system for aluminum roofs and glass pannels for glazing. Double glazing is made with a special hardened and tempered glasses wich are hail-resistant.
Profil Group use the facade systems of Alumil M6 (suspended facades) and M10800 Smartia (winter gardens) – functional systems that allow the execution of both vertical facades and roofs, domes and atriums. The systems have excellent geometric characteristics, maximum structural stability with minimal profile weight and perfect drainage through special drainage system.
Side (vertical) glazing can be very diverse, and here Profil Group offers doors and windows for the most demanding.
Classic aluminum or PVC doors and windows.

Sliding aluminum or PVC systems – tilt & turn sliding, harmonica or accordion, sliding, lift & slide Hebe Schiebe lift and others.

Glass sliding and folding glass systems as well as glass accordion.