Fire-resistant doors are designed to stop the spread of fire for a period of time, depending on the tests and tests that have passed. All doors have a Statement of Admissibility for installation in the construction sites by the Directorate General "FIRE SAFETY AND POPULATION PROTECTION" of the Ministry of Interior.
Fire doors are suitable for your boiler room, pumping station or common premises with a certificate of limit of combustion resistance in 2 ranges – up to 60 minutes and 90 minutes.
Profil Group maintains fire doors in storage for which it offers short installation times.
Profil Group's fire doors have been tested in accordance with European Standard EN 1634-1, with a statement of permissibility by the Ministry of Interior and Directorate-General for Fire Safety and Population Protection / of the Ministry of the Interior and meet the fire resistance class EI2.
E-emission

: Does not leak combustion gases or flames.
I-insulation

: Insulates intact rooms from fire and reduces heat transfer.
Limit heat transfer to a maximum temperature of 180 ° C on the face of a door that is not in direct contact with the fire (cold face).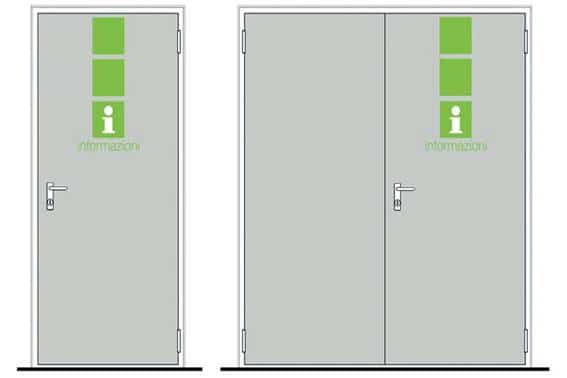 Advantages of fire resistant doors

---
Many models and quantities on stock

Option to turn the direction of opening – left or right

A great variety of optional extras

Short deadlines for preparation and delivery of available doors
Technical characteristics  of fire-resistant doors

---
Sash and frame made of galvanized steel, even hidden parts.

60 mm sash thickness reversible – opening is determined left or right during installation.

Frame sealed box with 28 x 2 mm heat-swollen sealing tape. Frame width 65 mm.

Steel ball hinges – GIFT.

Corner frame with detachable threshold.

The door frame is made of 1.5 mm steel sheet.

Powder coating (over 70 microns), standard color for available doors – RAL 7035 (gray fire paint).
Italian Fire-resistant fittings. Black HOPPE handle.

Two three-piece ball hinges per wing – one spring self-closing with a guarantee of 200,000 opening cycles.

Possible RAL colors: 9010,9011,8011,7016,7024,6000,5010,1015,1013, 7035,5024,7038,9001,9002,9016.

Mineral fibrous panels closed with steel sheets. The fire-resistant mineral wool has a density of 120 kg / m3 and a reaction-to-fire class A1. The door is tested according to method EN1634-1 and classified according to EN13501-2 in two-way fire action and has an opinion on the permissibility of the GDBZN.

Italian dug-in, monolingual lock with glove key (with insert for replacement of a secret cartridge).
Anti panic lock – optional

---
Strong steel frame – as standart

---
Classic door handle – as standart

---
Hinge adjustment – as standart 

---
Additional extras – as optional

---
Powder painting in RAL color other than standard.

Anti-panic lock on one side and handle on the other.

Locked by a lock cartridge.

Door closer – for smooth closing of the door.

Built-in glass – for El60 only.
Fire resistant steel doors available on stock

---
Profil Group maintains single-leaf doors in gray RAL 7035 –

El60

,

El90

 and double-wing

El60

,

El90

.

Ask for instant availability!

One-wing width Еl60 – 700,800,900,1000,1100,1200 мм /  Еl90 – 700,800,900,1000,1100,1200 мм /. Double-wing Еl60 and Еl90 – 1600,1800,2000 мм.

Height – El60 and El90– 2050 мм and 2150 мм.
Useful

---
Execution time for available doors: up to 7 days.

Delivery time for custom doors: 6-8 weeks.

PRICE fire door color RAL 7035 – size 900 x 2050 with up to 60 minutes of burning – 322.00 euro or/and on request.

ЦЕНА противопожарна врата цвят RAL 7035 – размер 900 х 2050 при до 60 минути горене – 337.00 лв с ддс за брой /без монтаж/.
Useful

---
All doors are sealed with a fire-resistant PU foam during installation.

Fire protection certificates comply with the European Standard EN 1634-1, with an admissibility opinion from the General Directorate for Fire Protection and Fire Protection of the Ministry of the Interior and the Directorate General for Fire Safety and Protection of the Population.

Suitable for hospitals, hotels, schools and kindergartens, car parks, museums and more.