Profil Group has a wide range of options for making shower cabins for bathrooms and screens for bathrooms or wet rooms.
All models of glass shower cabins are produced by individual model and customer desire.
Shower cabins and glass screens are made only with quality tempered and edged glass and high-grade stainless steel fittings specially suited for shower cabins.
We are manufacturer of shower cabins, shower glass screens and glass partitions with many years of experience in the industry.
The company offers both standard shower cubicles and shower screens made of glass as well as designer look and non-standard sizes.
Our products turn every bath from a normal room into a relaxing place after a long day of work. With its almost inconspicuous appearance, the shower enclosures in the Profil Group give each bathroom a touch of relax, pleasure and a sense of exquisite interior.
Shower cabins and shower enclosures

---
Separating the shower from the rest of the room through a glass partition, you not only keep the space dry but also protect your furniture and bathroom doors from annoying spraying and wetting and then rot.
Various combinations of glass and fittings are possible.
Shower enclosures and bathroom screens are made of specially treated 8 mm hardened tempered glass. Toughened glass is in the group of safety glasses, which, by controlled thermal or chemical treatment, increases its hardness and durability. If it breaks, it breaks into small, not sharp pieces so it can not hurt you.
Possible colors of the glass are: transparent, matt, color-brown, green, gray.
The shower cabin is a high-end interior design and modern bathroom finish. Profil Group offers a collection of glass drawing, that can turn this glass shower into a real masterpiece. Drawings are performed by matting the glass with shapes, silhouettes and images.
An example of such silhouettes and our glass graphics are a silhouette of a palm tree, a flower, a tree branch, a silhouette of the Eiffel Tower, the Colosseum and many others.
Shower enclosures surround the entire shower space and can be executed in different forms – P form, D form or in one plane. Showering is done through a glass door, which can be hinged or sliding. The classic design and the most common opening of the shower cabin door is hinged. This is the model shower cabin with the lowest price, but despite its lower price this performance is extremely massive and robust.
The shower cabin with a glass hinged door can also be made with a double door. One of the great advantages of this model, besides its strength, is the good sealing against wetting.
A shower cabin can also be built on a bathtub.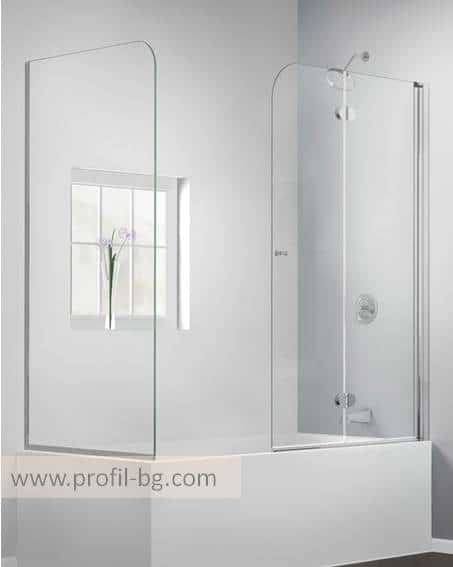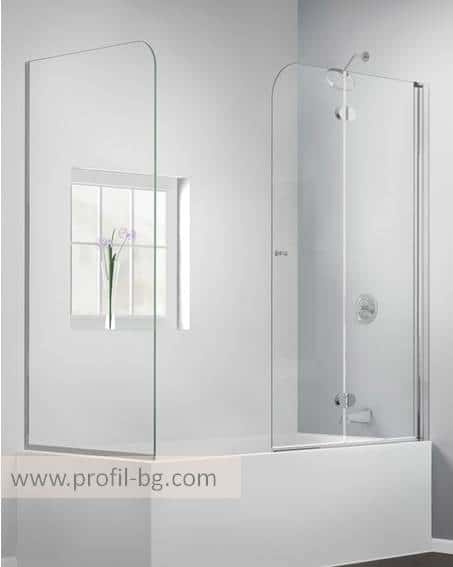 Sample models & colors of handles and hinges for glass door and shower cabin

---
handle classic

---
Handle square

---
Handle style

---
Handle crystal

---
Handle ball

---
Handle lux

---
Inox hinge

---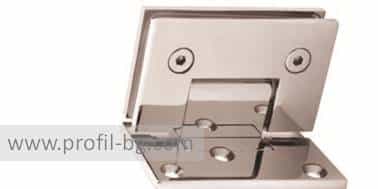 Inox hinge

---
Glass hinge

---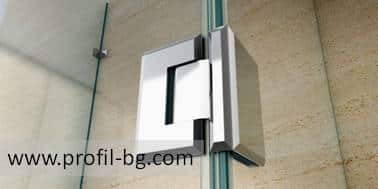 Glass holder

---
Holder П profile

---
Silicone sealant

---
Hinge Antique Roma

---
Hinge Graphite

---
Hinge Antique Copper

---
Hinge Obsidian

---
Hinge Rose Gold

---
Hinge Volcano black

---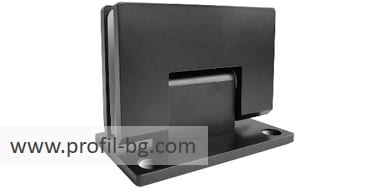 Handle 4400

---
Handle 4649

---
Handle antique copper

---
Handle 4651

---
Handle 4620

---
Handle black mat

---
The models of shower cabins with sliding glass doors are for true luxury fans. This is also the second option to make the glass door to the shower. They can be filled with one or two sliding doors at an angle or in one plane.
Sliding glass doors are equipped with a roller assembly and are attached to the so-called upper rails, which slide.
Profil Group offers 2 variants of rail and pipe sliding construction.
The two types of drive are virtually the same and the same booths can be fitted, but with the difference that the tube drive is more massive and the door moves smoothly and silently but has the highest cost.
A standard stopper is placed on the sliding door to prevent the glass from breaking.
This type of shower cabin is extremely stylish and modern in appearance and is very suitable for places where there is no possibility to place a door with a classic hinged opening.

There must always be fixed glass on the left and right of the sliding door on which the rail is mounted and the rail on the door, sliding it behind the non-windshield glass.
We place a magnetic stripe on the glass when there are two sliding doors and scatter each other.
Glass walls and glass enclosure for bathrooms and another rooms

---
Glass screens create a great deal of sense of space and light. Exceptionally simple but at the same time chic and modern. This is the real substitute for such a unobtrusive bathroom curtain. The glass partition other than a bathroom has applications in every room, even a living room, a dining room, in the office and more. Here again, as with shower cabinets, the glass is specially tempered for greater strength and safety. The glass can be rounded at its top for a more beautiful look. The rounding is done according to each taste.
A glass partition can be placed on a bathtub, to separate the toilet / washing machine, to restrict the dining table in the dining room.
The glass can be transparent, colored or matte.
Installed on the tub creates an elegant anti-wetting barrier, while being an exceptionally beautiful interior design.
It can be mounted directly on the floor or on a tiled board, for example with tiles.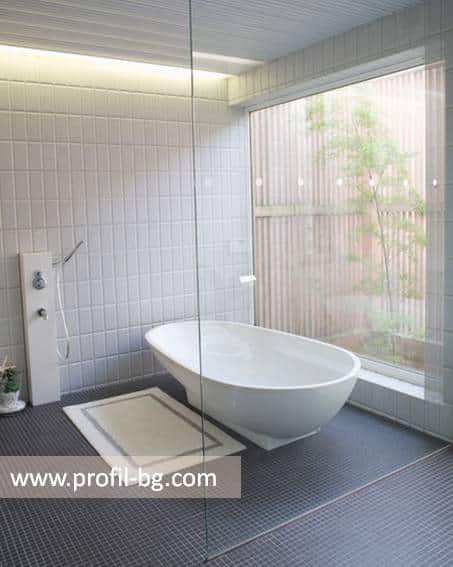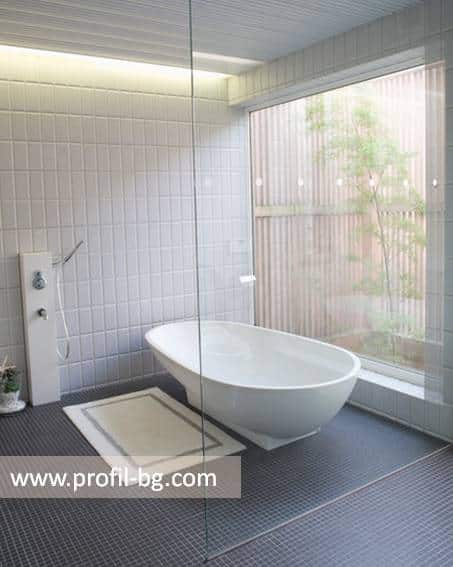 Sample graphics for matte silhouette on glass

---
These are just a small part of silhouettes and drawings from the rich portfolio of Profil Group. Any glass and glass door can be matted with a certain silhouette, as the silhouette may be matted or  non matted. It is possible to make a company logo on the glass thanks to this technology.