Multifunctional steel door with reliable closing and good protection for every room.
Extremely strong and resistant to aggressive environments such as cold, dust and heat.
These general purpose metal doors are suitable for residential buildings, public and industrial spaces, basements or warehouses, and more.
Available in single and double-leafed versions, and it is also possible to reverse the direction of opening – left or right.
The door is preferred because of its high strength, elegant appearance and extremely competitive price. The door is appropriate when smoke resistant requirments are needed.
Profil Group maintains stock models for which it offers short installation times.
Color on stock ral 7035 / 9010

---
Advantages of multi purpose doors

---
Clear and simple vision that enjoys the eye.

For every need and every place – functional and practical.

Available on stock and fast delivery.

Ability to reverse the opening direction – left or right.

Double-wing door – on request!

High-quality powder coating resistant to scratches.

Frame 60 мм with thickness 1,2 мм.
Classic handle

---
High quality at an attractive price

---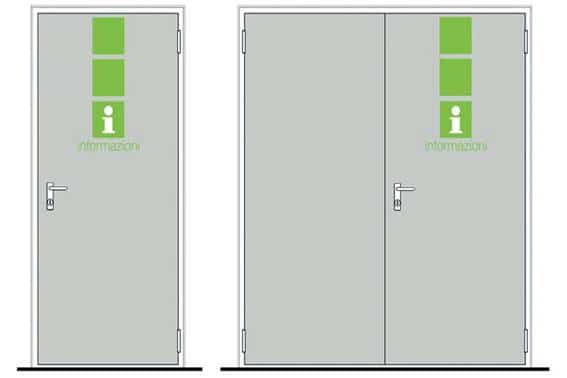 Technical characteristics

---
Metal frame made of galvanized steel 1.2 mm thick with reinforced section against burglary.

40 mm thick sash with thermo pannel.

Welded two triple section hinges.

Secret embedded monolithic lock with Perclet key / with replacement for cartridge /.

Italian hardware – black handle HOPPE.

More durable ball hinge – GIFT.

Additional anchoring elements that give a more reliable grip to the wall.

Standart colors RAL 9010 и RAL 7035 – over 70 mic. thickness of paint.
Additional optional extras – optional

---
Possible different colors from RAL 9010 & RAL 7035.

Anti-panic lock on one side and handle on the other.

Locking mechanizm by a lock cartridge.

Door closer – for smooth closing of the door.

Ventilation opening in the sash – on request.

Falling threshold for smoke resistant doors.
Available on stock all purpose doors

---
Profil Group have on stock single sash doors in color RAL 9010 & 7035.

Width single door – 700, 800, 900 мм.

Width double door  – on request.

Height – 2000 мм for RAL 9010 & 2050 mm for RAL 7035.

It is possible some size to be not available.
Useful

---
Execution time for available steel multi purpose doors: up to 16 days.

Execution time for custom metal doors: 6-8 weeks.

PRICE multifunctional door color RAL 7035 – size 700 х 2000 – starts at 204.00 euro.
Anti panic lock – optional

---
Handle and hinge – standart 

---