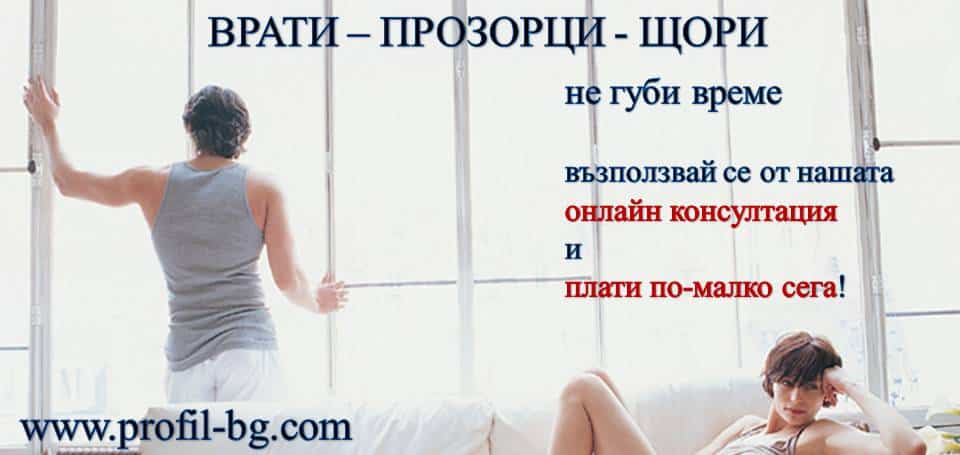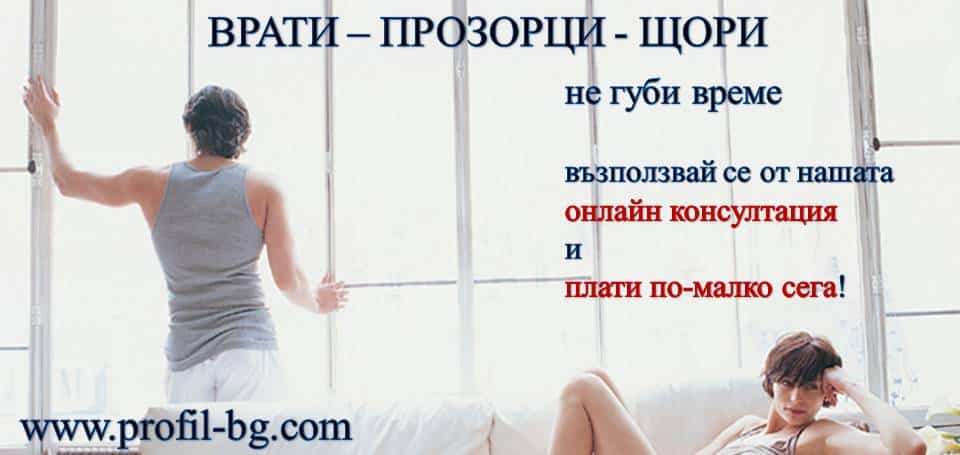 Check out our current promotions:

---
Gift – argon for all double and triple glass pannels.

Gift – MOSQUITO SCREEN / One hinge mosquito screen for each ordered window – SALAMANDER and PROFILINK systems.

Gift – WC secret cartridge with handle for each ordered aluminium door for bathroom.

Gift – SECURITY handle 'Hoppe' for each sash when ordering windows 6 chamber SALAMANDER greenEvolution and 6 chamber PROFILINK PREMIUM.

Gift – for each balkony door a sash holder with oval handle. Closing from outside mechanizm for SALAMANDER and PROFILINK systems.
Gift – SECURITY handle 'ROTO' with no scratch nano film coating for each sash when order PVC windows SALAMANDER BluEvolution.

Gift – 'ROTO' hardware for windows and doors when order PVC windows SALAMANDER BluEvolution.

Gift – old wooden window removal when install new windows and doors.
Promotion is valid until 30.09.2023г.
The promotional front door models FeRi 50 – for an apartment and FeRi 80 – for a house are available in stock and Profil Group offers a short delivery time.
The iPS and iDoor – apartment entrance door models are electromechanically locked. The iPS is controlled by an electromagnetic card in combination with a mechanical lock. iDoor is controlled by a Mobile smartphone, electromagnetic card in combination with a mechanical lock. The iDoor 3.0 model has 18 locking points, which makes the door impenetrable.

Prices of armored doors in section armored doors do not include installation, dismantling, transportation.
Promotional armored steel door of the year – more extras at lower price !

---
Alpha – iDoor 20-23

---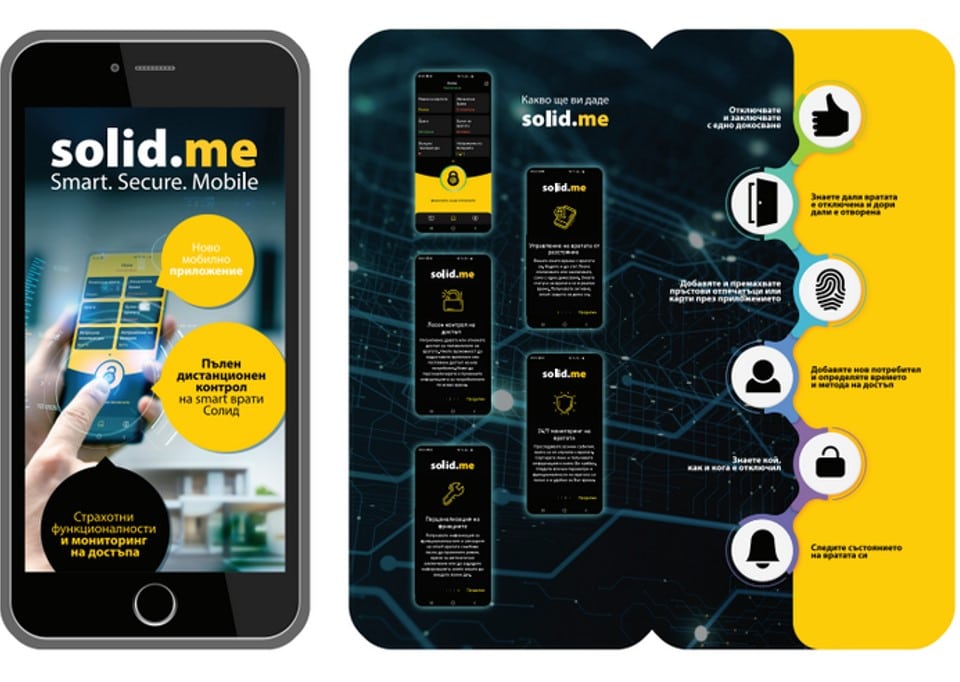 Top offer smart door of the year 2023 г.!

---
For the first time, a combination of all the latest developments and high technologies in one armored door at a promotional price. Alpha – 20-23 is smart, beautiful and easy to use, but at the same time it is at an extremely high level of security. In practice, it is a top-class door with an electromechanical lock and built-in power supply. The keys are in the past. SolidTouch ID fingerprint control and  Solid.me – full control with smart phone.
This is an entrance door with a design without compromise, refined to the last detail, impressive sound insulation achieved with the built-in special Akustik Pad panel and the highest levels of thermal insulation U = 0.852 W/m2°К through sealing on all sides. Armored Door Alpha is of the highest burglary resistance class. For traditionalists, the Mechanical lock with Solid 10 secret cartridge and additional protection ProBox with ring protector or the special protection of the mechanical lock against penetration is available.
Massive sash, 68 mm thick, made of bent steel sheet 1.2 mm thick

.

Special bridge reinforcement of steel structure ribbing

.

Electromechanical lock W30-4T – with 4 steel spikes + battery built into the sash

.

Italian Cartridge Lock + solid 10 cartridge with 5 keys

.
SolidTouch ID –

fingerprint control

.

NEW

ProBox Lock Protector / Unique 7.2mm thick steel guard protects against breaking the lock /.

NEW

 SolidBox protector/

additional 4 mm thick steel protection module to protect the locking studs of the deviators

/.
SBS function – mutual protection of both locking systems. When both locks are locked, the electromechanical starts to secure the mechanical via Active security (an alarm is triggered when attempting to forcefully actions for breaking the lock), and the mechanical lock blocks access to the antenna and the electrical unlock button.


To open the door we first unlock the mechanical lock and then we can now activate the electric lock with the contactless card or the unlock button on the inside of the dwelling.

Reinforced lever system with deviator

.

Anti-punch plate in the area of the lock

.

Metal frame made of 2 mm steel sheet with anchoring elements.

2 passive spikes on the hinge side.

Active Security module – independent alarm system  with integrated in the door

.
Electronic latch with push button on the inside –

GIFT

for easy unlocking and locking on the inside.
Four-sided double wing and metal frame seal – S 50 Thermo.

Mineral wool filling 50 mm.

Built-in mechanism for adjusting the clearance between the frame and the wing.

Automatic rubber threshold – classic.

Lower metal threshold – demountable.

Solid.me – door control with mobile phone (SIM card is from the customer).
Exclusive Vision with 3D pannel –

GIFT

.
Acoustic pad – special 2 mm rubber insulation material originating in Italy and certified for 26 db sound insulation.

DECORATIVE PANELS (not possible decorative graphic on pannel)

:

On one side (optional exterior or interior) 8 mm MDF with exclusive NEW 3D design – Dark Chestnut, Walnut, Oak, Smoky oak, Natural Scandinavian oak, Maple (float).
On the other hand (optional exterior or interior) 8 mm MDF wood decor flоat: Dark Chestnut, Walnut, Oak, Smoky oak, Natural Scandinavian oak, Maple (float).

There is a 2mm special Akustik PAD rubber insulation material under the outer panel.

Edging Aluminum Profile T Design – powder coated in one color

Metal frame colors – standard RAL colors – group 1.

Italian 3D adjustable hinges.

Wide-angle Italian spy.

Italian hardware – two handles Atlant (chrome satin and black matt).

COMFORT decorative frame up to 300 mm with internal and external sills –

GIFT

.
Armored steel front door Alpha – iDoor 20-23 :
Price:    1 589.00 euro