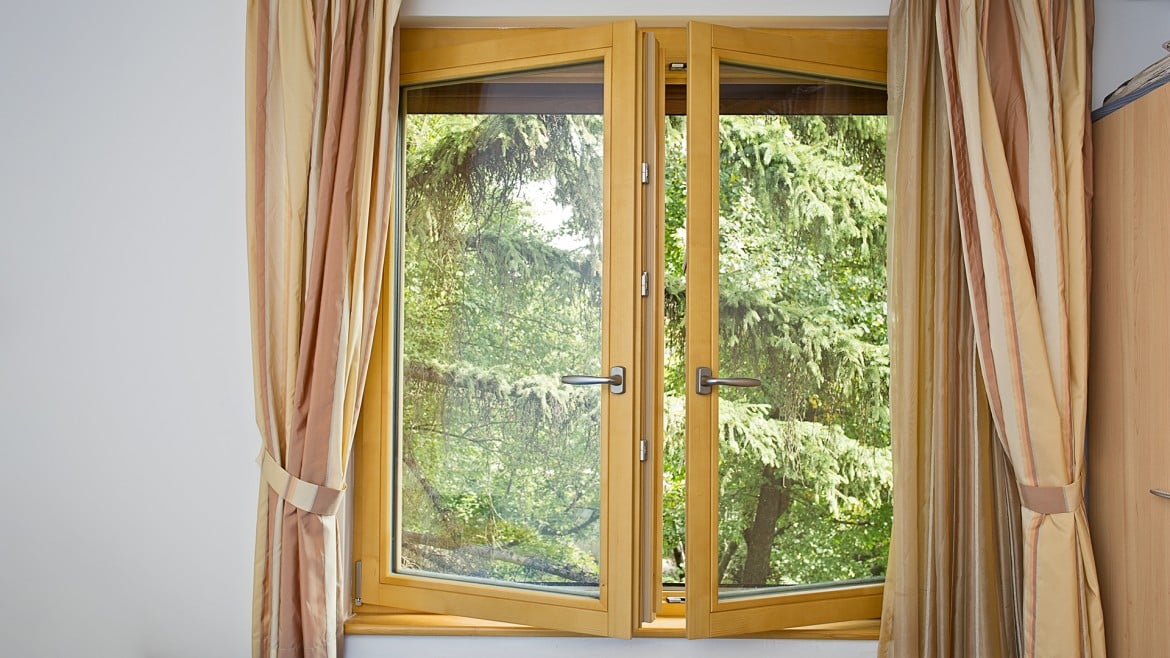 Profil Group is pleased to present you the highest class windows in its portfolio, namely timber windows made of solid natural wood originating in Germany certified by Münchinger. A modern and innovative solution for windows and doors made of triple-glued solid wood with top-class glazing by German technology. The system of wood windows gives hermetically sealing between the glass and the frame. Natural hard wood is better insulated than any other material, combining comfort with excellent value for money. The wood creates an unparalleled sense of coziness and warmth, is eco-friendly and long lasting.
The system incorporates high-grade fully adjustable Wink Haus hardware, aluminum profile fenders on the frame and sash – Gutmann Germany and high quality silicone sealants.
The aluminum fin is in 2 colors – silver and brown.
The color palette is achieved with zero-emission, water-based, lazure impregnation – TEKNOS Finland.
This lacquer penetrates deep into the pores of the wood and makes the natural material extremely resistant to weathering.
In addition, the system has the option of installing an aluminum cap on the outside.
Due to their remarkable qualities, wooden windows are usually more expensive than other alternatives.
However, their durability and quality mean that the best value for money is achieved here.
The owners who have installed wooden windows are adamant that the rich, stable, traditional feel of real wood is irreplaceable and undoubtedly justifies the higher price.
Possible types of windows:
Classic window with single or double axle opening ( tilt & turn) with classic or security hardware;

Oval or trapezoidal window;

Sliding tilt & slide;
Sliding Hebe Schiebe lift & slide –

frame width 184 mm

;
Sliding accordion.
Types of wood for timber windows:
Advantages of the system:
Design width of the frame – 78 mm;

Design width of the sash – 78 mm;

Frame and sash height – 122 mm;

Double glazing – triple 40 mm;

Heat transfer coefficient – up to Ud = 0.72 W / m²K;

– meet the requirements for PASSIVE HOUSES;

Noise reduction factor up to 44 dB;

Burglary resistance – class 2;

Types of gasket – high quality EPDM for frame and sash and silicone in the double glazing;

 

Made only in Germany;

Class A profiles according to European standard EN 12608: 2003;

Extremely long life – over 30 years with proper maintenance;

Elegant optics with mounting cap and aluminum cap;

Light-resistant and highly weather-resistant;

Attractive design combined with high functionality;

Maximum easy cleaning and maintenance;

Possibility of RAL painting, including standard wood imitations and transparent varnishes from color pallete;

100% recyclable and excellent eco-balance;

Possibility of mounting a decorative 24 mm wood sprue on the window glazing and in the color of the window;

Serially with security handle;

The wood is 100% dried –

no tears, no pitch and very hard.

Installation of the new elements is carried out by means of MOUNTING ANCHORS.